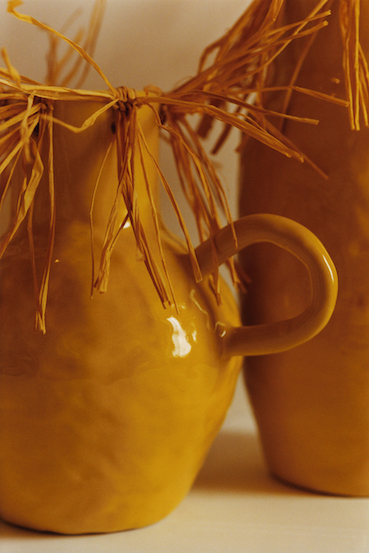 Juliette Godard crée GoJu en 2019 afin de retrouver une forme d'expression manuelle et artisanale. Styliste maille et jersey, elle s'initie alors au modelage de la terre. Les formes qu'elle façonne sont organiques et réconfortantes, loin des patronages stricts et géométriques du vêtement.
Amoureuse des rencontres entre matériaux, elle ajoute la légèreté du raphia à la céramique, comme on tricoterait des fils. Chaque pièce est modelée à la main, imparfaite et unique.

N'hésitez pas à me contacter pour des commandes ou des projets spéciaux.

• • •

Juliette Godard founded GoJu in 2019 to re-establish with crafts and manual experimentations. Knit and jersey designer, she learns clay modeling. The shapes are organic and comforting, far from the stricts and geometrics clothes patterns.
In love with materials combination, she adds the lightness of the raffia to the ceramic, like she would knit yarns. Each piece is modeled by hands which makes each of them imperfect and unique.

Do not hesitate to contact me for orders or special projects.